Dominic and Joe's Disney's Fairy Tale Wedding featured a mid-century Hawaiian Cocktail Party theme at the Rose Court Garden and Adventure Lawn outside of the Disneyland Hotel. The space was full of lush tropical plants and trees, with bright big flowers and Hawaiian music. The couple finished off the night with a surprise & delight experience for their guests inside of California Adventure Park. Keep scrolling for the details!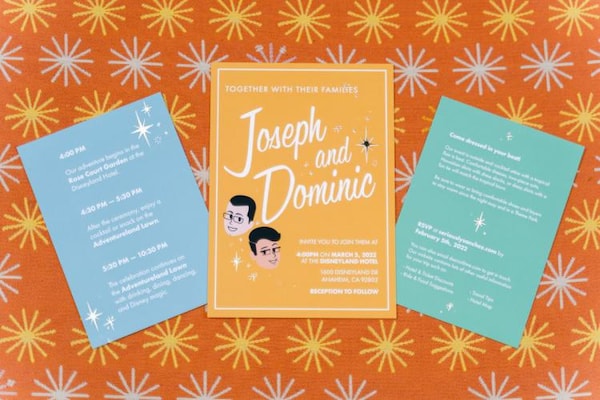 A Bright Lush Wedding Ceremony
The wedding ceremony space at the Disneyland Hotel Rose Court Garden was transformed into a tropical oasis of palm fronds and roses in shades of pink, orange, and yellow. Vintage string lights lit up the sky above the wedding ceremony, creating a picture-perfect atmosphere.
The couple chose to walk down the aisle together holding hands. Included in the wedding ceremony was an exchanging of coins, vows, and ending with an exchange of rings.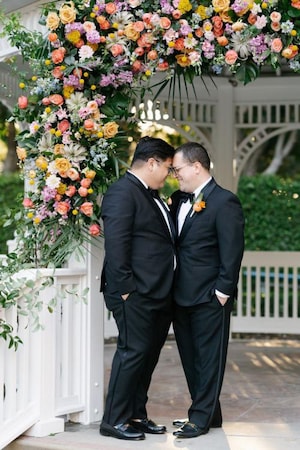 A Retro Themed Wedding Reception all About the Details
Dominic and Joe had their wedding reception right next door at Adventure Lawn at Disneyland Resort Hotel. Adventure Lawn has seen a number of enhancements, including string lighting, a stage, and turf. This was the perfect setting for a mid-century tropical atmosphere that the couple had envisioned, and the Disney Fairy Tale Weddings Team were able to bring to life.
Special Surprise & Delight Moments
The couple said, "we all just wanted to do something with our families for the first time in so long." For them, that meant including unique Disney elements that their guests would never have again. Like, an attraction-mix-in on Toy Story Mania! This allowed the couple and their guests the opportunity to be some of the last guests on the ride.
Dominic said one of his "favorite moments of the day was walking into California Adventure Park…and realizing the two of them and their wedding party were the only guests left in the park."
But, the celebration didn't end there. They extended their guests' experience by booking a VIP tour for their families the day after the wedding as the "cherry on top of their celebration after two years of pandemic life."
It was always a dream of Joe's to have a Disney wedding, and it turned out to be so beautiful in so many ways that it was unforgettable for them and their family and friends.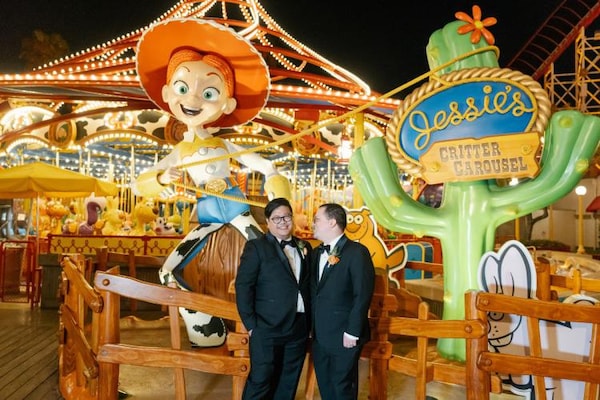 If you are interested in starting the journey towards your own Disney Fairy Tale Wedding complete with fun mix-ins, request a digital brochure or contact us.