From their towering heights to their traditionally fruit flavors, royal wedding cakes are iconic! We're taking a look at royal wedding cakes and sharing some Disney Wedding inspiration for your r
oyally inspired wedding.
Just like every element of a royal wedding, the wedding cake is steeped in tradition. One of those royal wedding traditions being the cake's height! From as many as 11 tiers (
Crown Princess Victoria & Prince Daniel), to standing over 9 feet tall (Queen Elizabeth and Prince Philip), and most even weighing over 550 lbs! These cakes are a sight to behold.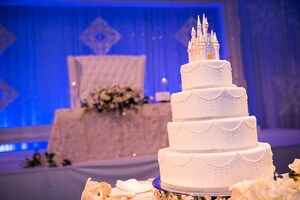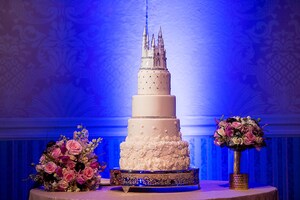 At Disney's Fairy Tale Weddings, we have a team of dedicated pastry chefs who can create magnificent wedding cakes that will make any couple feel like royalty - our tallest wedding cake standing over 12 feet tall! Take a look at some of our favorite royal Disney Wedding cakes below.
Another popular tradition when it comes to royal wedding cakes, is the historically fruit flavors. We know Meghan Markle and Prince Harry have chosen a lemon edlerflower cake, while Prince William and Kate Middleton opted for a traditional fruit cake. But, did you know Disney Weddings has uniquely fruit flavors for our Disney couples to choose from for their wedding cake too? Yep! One of them being a flavor inspired by the beloved Disney treat - Dole Whip! And, if that wasn't enough, we got churro flavor as well!
When it comes to creating a wedding fit for royalty, no one does it better than Disney Weddings! Whether you're dreaming of an intimate beach ceremony or a extravagant castle backdrop, we can make you fairy tale a reality. Download our ebrochure to learn more!