Last night our very first episode of Disney's Fairy Tale Weddings TV Show aired on Freeform! (If you missed it you can watch it here!) We are so excited to take you behind the planning of these extraordinary Disney Weddings and hopefully provide inspiration for your wedding day. Every week check-in to the Ever After Blog for a complete recap of the Disney Weddings you see on TV.
First up, Emily and John!
We had so much fun planning Emily and John's wedding. John has been dreaming of a Disney Wedding since he was a child! When it came to planning, there were a couple of very specific elements that they wanted to include on their special day - their heritage, their love for hockey and Disney. Together, with with the help of their Disney Wedding Planner, Emily and John were able to highlight all three throughout their special day.
The Wedding Ceremony
Emily and John toured multiple venues before deciding on the China Courtyard at Epcot for their ceremony spot. John's family is from China and hosting their wedding here was a perfect way for the couple to celebrate his culture.
The replica of the "Temple of Heaven" served as a stunning backdrop! Because the space is so grand, we opted to enhance the venue by hanging over 200 floating lanterns in the trees and lining the walkway and aisle with glimmering candles. We chose gold chiavari chairs with red cushions - on every chair we placed rose petals for guests to toss after the ceremony ended. But, one of our favorite decor elements was the red rose petal aisle!
One of the really unique elements of Emily and John's Disney wedding ceremony was the Chinese Dragon who served as a ring bearer. It was a fun and entertaining element that made their ceremony extra memorable!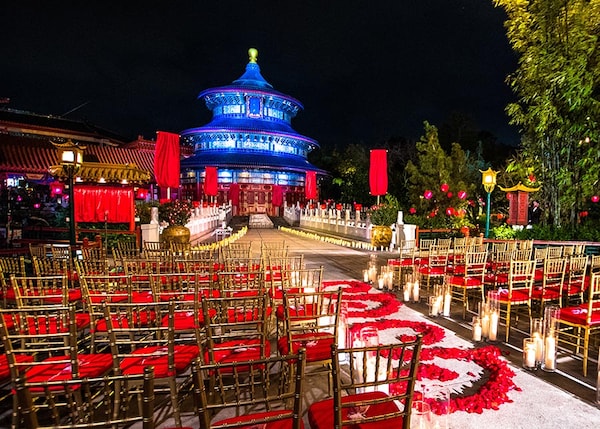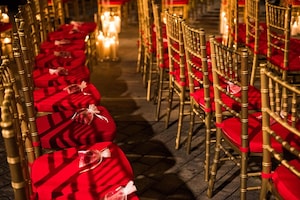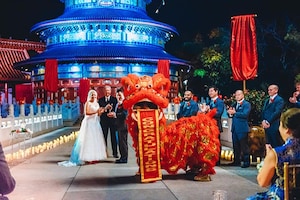 The Chinese Tea Ceremony
In keeping with Chinese tradition, Emily and John hosted a Chinese Tea Ceremony immediately following their vows. It was hosted inside The Great Hall in China. We mimicked the same decor from the wedding ceremony - using candles, rose petals, and lanterns to decorate the space.
The Entertainment
At Disney's Fairy Tale Weddings, we think truly memorable weddings are experiential. They invite guests to immerse themselves in their environment - and one of the best ways to do that is through entertainment.
After the Chinese Tea Ceremony, Emily and John's guests came back outside for an unforgettable private show by the Chinese Acrobats! You may recognize them if you have ever visited the China Pavilion in Epcot. They thrilled the wedding guests with incredible stunts and tricks!
The Reception
After the show, the couple and their guests walked through Epcot over to the
American Adventure Rotunda
for dinner and dancing. The decor still followed the same color scheme but we added elements of their shared passion - hockey! Every table included table numbers inspired by hockey jerseys, we hung flags in the colors of Emily and John's favorite hockey teams, and we even set-up hockey goal posts.
To make Emily and John's entrance into the reception special, we gave all their guests hockey sticks. The guests waved them in the air as a perfect canopy for the couple to run under to reveal the Stanley Cup. Their reaction was priceless and it was truly a magical experience.
Keep scrolling to see all the wedding details!
How to have your own fairy tale like Emily & John?
Getting Ready: Disney's Grand Floridian Resort & Spa
Wedding Ceremony: China Courtyard, Epcot
Chinese Tea Ceremony: The Great Hall of China, Epcot
Reception: American Adventure Rotunda, Epcot
Entertainment: Chinese Acrobats / Chinese Dragon / DJ / Magic Mirror Photo Booth
Whether you're wishing for an intimate beach ceremony or an extravagant castle wedding "" we are here to make your fairy tale a reality. For more information about planning your Disney wedding, request our free wedding brochure.