A multi-event wedding celebration that included a welcome party at Sea Breeze Point, an outdoor wedding ceremony at Yacht Club Gazebo, followed by a wedding reception at American Adventure Rotunda, and a special viewing of the EPCOT Nighttime Fireworks Spectacular. All the wedding details are below!
"One of the first things Hal and I bonded over when we started dating was how we both wanted a unique wedding and that it absolutely had to be fun."
Ashleigh and Hal's desire for an unforgettable wedding set the scene for a magical wedding week at Walt Disney World. The couple shared that, "it was important to us that our wedding reflected us as a couple and was fun for everyone who attended. Having been to plenty of weddings ourselves, we knew that the things guests remembered the most were the food and the entertainment, and we wanted to make everything as easy as possible."
So set the wedding planning journey, where our Disney Weddings team partnered with Ashleigh and Hal to bring their fairy tale wedding to life. Creating once-in-a-lifetime experiences that would make their wedding one to remember.
A Wedding Welcome Party on Disney's BoardWalk
Ashleigh and Hal started off their wedding week with a casual brunch overlooking Crescent Lake at Sea Breeze Point. This wedding event allowed the couple to formally welcome their guests to Walt Disney World and kick-off the festivities. The venue was only steps away from where the bride and groom and their guests were staying, making the meet-up seamless and fun.
During their welcome party, Ashleigh and Hal also surprised their guests with exciting details about the wedding day ahead—revealing that their wedding reception would take place inside EPCOT.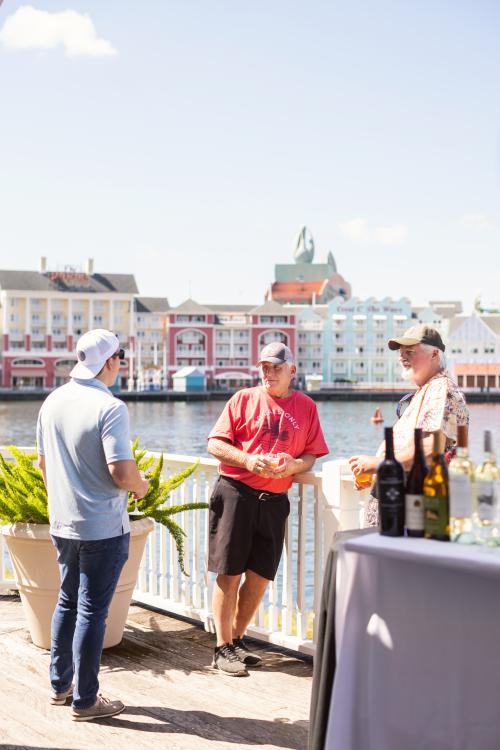 An Elegant Wedding Ceremony
Situated along Disney's BoardWalk, Disney's Yacht Club Gazebo was the perfect backdrop for Ashleigh and Hal's wedding ceremony. Pairing the couple's "love for the resort and our New England Roots."
The charming gazebo and lush lawn need little decoration and provides picturesque photo backdrops for wedding portraits.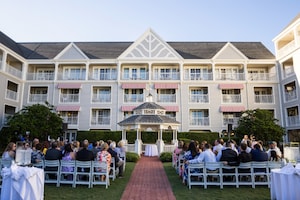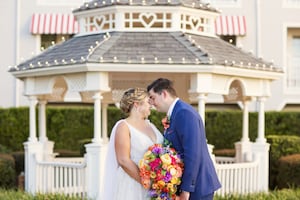 A Pre-Reception at the Italy Pavilion in EPCOT
Once married, Ashleigh and Hal joined their wedding guests for a pre-reception at Italy Isola inside of EPCOT. A popular venue for its private courtyard, romantic Italian backdrop, and waterfront views.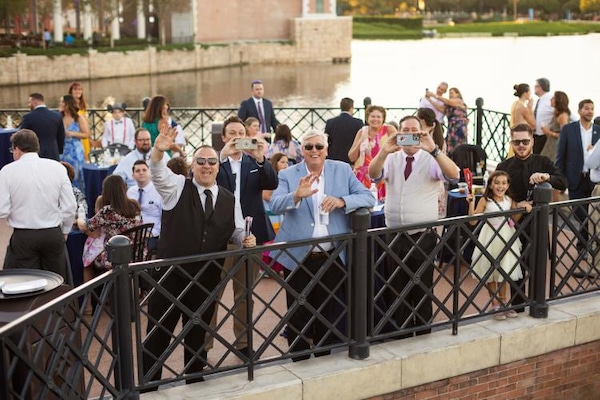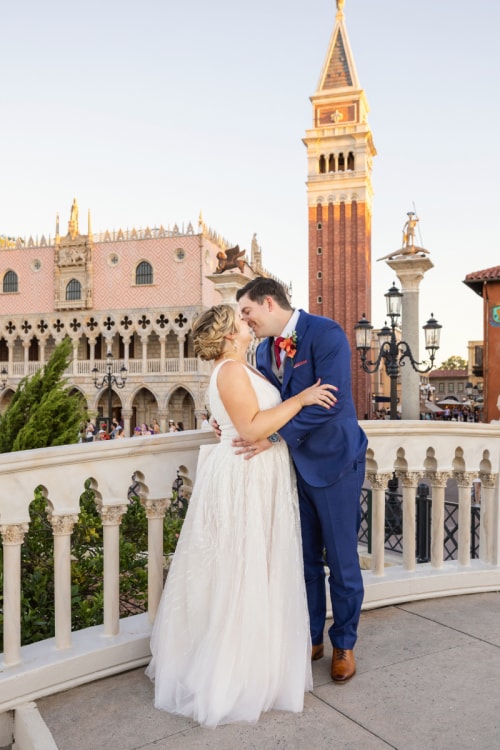 A Wedding Dinner to Remember at American Adventure Rotunda
Their reception was hosted inside of the American Adventure Rotunda, an expansive and elaborate ballroom ideal for Disney wedding receptions. The venue was transformed with custom up lighting, upgraded linen and vibrant floral.
Ashleigh and Hal also spent time curating a wedding menu that was not only delicious but also reflected their unique interests and tastes. "While planning our menus, we compiled a list of our favorite foods and beverages from across the resorts and parks - things you can really only get at Disney."
A Special Fireworks Viewing
After dinner, Ashleigh and Hal surprised their wedding guests with a VIP viewing of EPCOT's Nighttime Spectacular! Another way to help create once-in-a-lifetime memories with their closest friends and family.
"For a lot of our guests, this was the first time they'd ever watched a nighttime spectacular at Walt Disney World, so having front row viewing came as a complete shock. And while we were having incredible fireworks photos taken we could hear the audible gasps and exclamations from our guests as they watched the show. It was honestly one of the best moments to share with all of our favorite people in one of our favorite places on earth, and something we'll - and they'll - never forget."
Partying the Night Away!
After watching the fireworks, Ashleigh and Hal capped off their wedding celebration with their guests back in American Adventure Rotunda, dancing the night away.
"We really wanted our guests to have the best time ever and have just as memorable of a weekend as we were going to ourselves! Our family and friends were traveling from all over the country just to celebrate this special occasion with us - that meant so much to us, and it was important that they had an amazing time while they were at Walt Disney World. We wanted to show them the things we love about Walt Disney World so that they would have memories for a lifetime, too! Having a custom menu full of Disney dishes that everyone could enjoy was absolutely critical. Celebrating in one-of-a-kind spaces that couldn't be found anywhere else in the world? SO important. Our wedding being the catalyst for so many once-in-a-lifetime moments and memories - including our guests who were visiting Walt Disney World for the first time EVER? Absolutely priceless."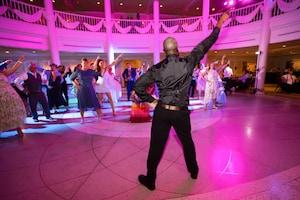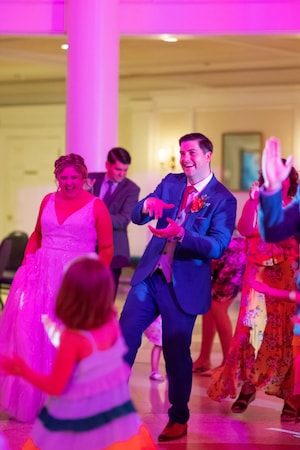 We loved being part of Ashleigh and Hal's fun-filled Disney Wedding!
To begin planning your own special celebration, request a digital brochure or contact us.
Photos courtesy of Root Photography.