Our favorite Disney princess once said, "A dream is a wish your heart makes," and my heart wishes for you to feel like Cinderella on your special day. With a flick of their wand, Alfred Angelo Bridal has created a stunning collection of Cinderella-inspired gowns as part of the Disney's Fairy Tale Weddings by Alfred Angelo Collection over the past few years "" so I thought it would be fun to do a fairy tale roundup! Every wedding gown has been created with precision and love, rich with delicately feminine details and exuding elegance. For the modern day princess, the 2015 Cinderella inspired movie dress was specially made as a limited edition gown to bring that timeless beauty from the big screen into reality.
2011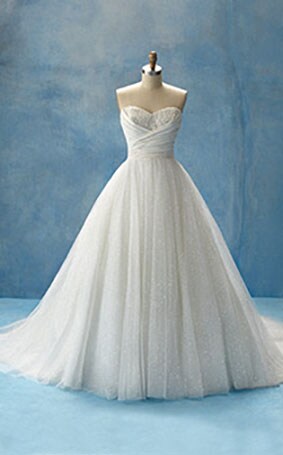 2012
2013
2014
2015
2015 Cinderella Movie Dress
2016
Every woman deserves to feel like royalty on their wedding day, and with a dress inspired by Cinderella's sophistication and beauty, you'll feel like a true fairy tale princess long after the clock strikes midnight.
Happy ever after,