ADD A DISNEY CHARACTER APPERANCE
Recorded music will accompany your ceremony, and iconic Disney Characters can enliven your event afterward.
During your Escape wedding, walk down the aisle to music supplied via CD player or iPod hook-up. After your big moment, enjoy an exciting Disney-style celebration you and your guests will remember for years to come by arranging for your choice of Disney Characters to drop by.
CD PLAYER OR IPOD HOOK-UP INCLUDED
Make the moment meaningfully yours by playing your personal music selections during your ceremony. Or, if you prefer, we can provide a CD of music for you.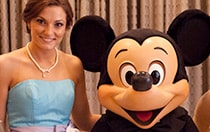 DISNEY CHARACTERS
Invite a Disney Character to join your party post-ceremony and imagine the delight of your guests when Mickey Mouse and Minnie Mouse congratulate you during your cake-cutting moment.

Talk to your Wedding Coordinator about Disney Character options available*.

*Disney characters subject to availability. Specific characters may not be available.